Abbeymead
New ward boundaries for Abbeymead.
Abbey ward's boun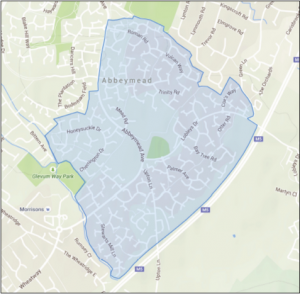 daries have now changed, with the ward splitting in two. The Abbeymead ward will comprise of the Abbeymead community, including those streets currently in the Hucclecote ward, and will be represented by two councillors. Your councillors are Laura Pearsall and Gordon Taylor, both elected on the 5th May 2016.
The independent Local Government Boundary Commission for England has published its final recommendations for new electoral arrangements for Gloucester City Council.  
The Commission's final recommendations propose that Gloucester should be represented by 39 councillors – a small increase to reflect the growth of the city's population. The recommendations also propose that those councillors should represent a total of 18 wards across the city